The Duo Mobile application makes it easy to authenticate — just tap "Approve" on the login request sent to your Android device. You can also quickly generate login passcodes, even without an internet connection or cell service.
Find the latest version of Duo Mobile in Google Play.
Supported Platforms: The current version of Duo Mobile supports Android 5.0 and greater. Android 4 users can still install version 3.16.5 from the Google Play store.
To see which version of Duo Mobile is installed on your device, go to the Android Settings menu, tap Apps, then scroll down and tap Duo Mobile. The "App Info" screen shows the version.
Duo Push
Duo Push is the easiest and quickest way of authenticating. You'll get a login request sent right to your phone.
When the Duo Push notification shows up on your screen, tap where indicated to view the available actions: Approve or Deny.
You can slide down your notifications to see more information about the login request before selecting an action, like the username, timestamp, and location information (if available).
Simply tap Approve in either type of notification to finish logging in to the Duo-protected application.
Tapping on the push request notification itself (instead of tapping the notification actions) takes you to the full Duo Push screen in Duo Mobile.
If you get a login request that you weren't expecting, tap Deny on the notification or the full Push screen to reject the request. If you don't recognize the authentication attempt as your own, tapping It seemed fraudulent rejects the login attempt and also notifies your Duo administrator about the suspicious request. If you just want to cancel a login request you made you can tap It was a mistake to deny the request without reporting it.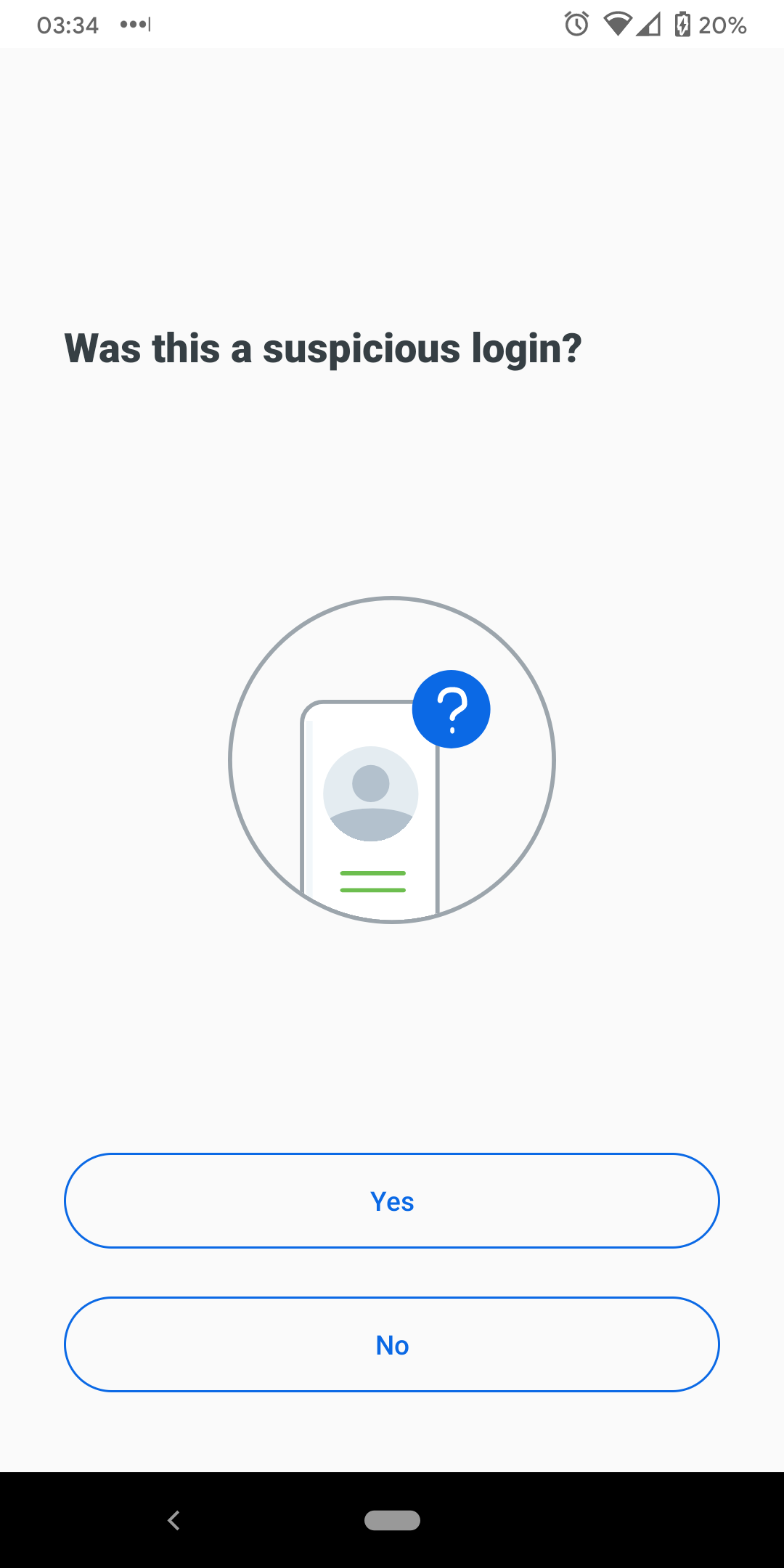 ---
Fingerprint Verification
Duo Mobile 3.10 and up also supports fingerprint verification for Duo Push-based logins as an additional layer of security to verify your user identity. If you're using a device with Android v5.0 or later and a fingerprint reader you'll need to scan your finger each time you authenticate via Duo Mobile (if required by your administrator).
If you're not able to scan your fingerprint using the sensor you can also approve the Duo authentication request using the device's passcode (the same one you use on the Android lock screen).
---
Passcodes
Just tap the key icon to get a one-time passcode for login. This works anywhere, even in places where you don't have an internet connection or can't get cell service.